Let's Make it Personal!
Here at Aspinal of London, we are proud to offer an embossing and engraving service on most of our leather accessories and sterling silver gifts.
You can add initials, names, dates or special messages to create a truly unique, thoughtful and sentimental gift that will be cherished for years.
Blind Embossed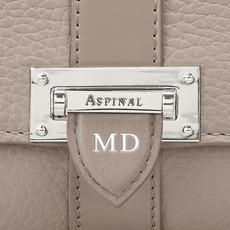 Silver Embossed
Gold Embossed
Engraved
Our personalisation team use traditional hot presses and brass blocking dies to hand-emboss your chosen leather gift with a choice of gold or silver foil or we offer a blind option which is without foil. Our engraving team use a diamond tipped machine cutter to engrave your chosen message to produce a crisp and solid impression.
Give a gift that will be cherished for years to come or add a personal touch to your bags and accessories with our professional personalisation service.