ASPINAL THROUGH THE EYES OF GILES
This Giles Deacon Collaboration With Aspinal Is Quirky, Charming, and a Whole Lot of Fun - Vogue USA
Aspinal invited Giles to "dress" his favourite products, to bring couture design elements to a playful collection. The result is a fresh and colourful capsule based on Giles's hand-drawn illustration of "Aspinal Girls".
The collaborative collection adds unexpected materials and prints to traditional styles and includes a luxurious and stylish array of embroidered, illustrated and printed bags, clutches, silk scarves, and small leathers.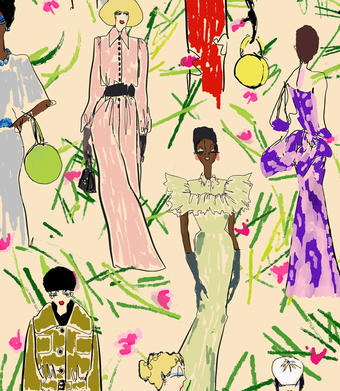 I love the synergy of the Aspinal woman and the Giles woman – they have a great sense of fun and playfulness
The most important part for me in designing the collection was not to reinvent the wheel, Aspinal has got so many iconic and beautiful shapes which are already well known; such as the Trunk and the Hat Box. I wanted to play on those and put my own individual stamp of creativity on them.
WHICH GIRL ARE YOU?
Who is she? Where is she going? What is she doing? All of the characters Giles illustrates have their own distinct personalities. Which one are you?
The Aspinal girl, the Giles Girl - they're out and about, they like the countryside, they like the town, they like fashion. They like a bit of whimsy and quintessential English playfulness!