We've been exploring the photogenic world of the male influencer and put together a list of our favourite inspirational personalities. From long-standing established fashionistas with large followings, to the up and coming personalities chasing a place in the spotlight, we bring you a selection of well-dressed men from around the world who give us serious lifestyle inspiration and make their style into a way of life.
Cuts For Him
Launched in 2015 by Edmond Kamara, with the brand ethos to "dress in order to be addressed appropriately', Cuts for Him has fast evolved into a lifestyle hub for the modern man. As the name implies, Edmond's style focuses on bringing fashion back to the basics focusing on exquisite tailoring and fit of garments. Aspinal loves how Cuts for Him provides all the necessary information for the modern day gentleman including tips and reviews on fashion and style, grooming, travel, fitness, art and culture, and Hotels.
FIND OUT MORE
Harry Baron
Hertfordshire born Harry, now lives in London with his reality TV star girlfriend Melissa Tattum. Harry has a passion for photography, showcasing the beauty of London and beyond through his Instagram channel. His content incorporates a wider variety of topics including fashion and his own label Ambience Vibes specializing in luxury loungewear founded on simplicity, fine details and quality. Aspinal loves that Harry's style is extremely versatile, from showcasing the many ways to wear premium streetwear and unique tailoring.
FIND OUT MORE
Oliver Proudlock
Oliver Proudlock is a TV personality and fashion entrepreneur who came to fame on the reality show Made In Chelsea. His style incorporates both sophisticated tailoring and stylish streetwear cementing him as a regular face on the London menswear scene from events to fashion weeks. His individual brand of dressing makes him stand out from the crowd. Aspinal loves how Oliver is never being afraid to experiment with eccentric pops of colours to his add own interpretation of classic British style.
FIND OUT MORE
Charlie Irons
Charlie Irons started his journey as Man About Town in 2016 and has quickly established his own vastly popular and forward-thinking lifestyle content platform. Charlie wanted to share more than just snaps from his everyday life and wanted to create a hub for the everyday guy on his blog. Offering everything from male grooming and fashion to lifestyle, travel, and food, Man About Town has a real interest in the ever-evolving landscape of the modern-day gentleman. Aspinal loves how Charlie has recently moved to the Cotswolds, showcase the duality between town and country through his content.
FIND OUT MORE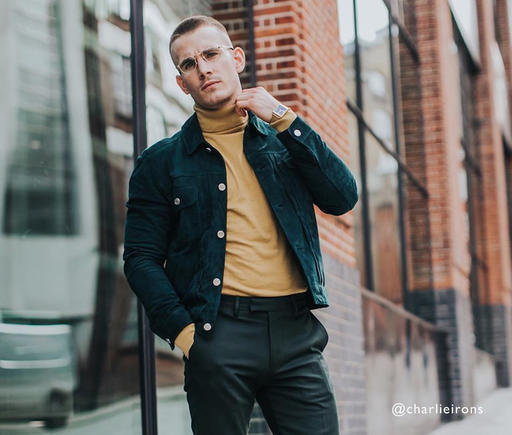 Jim Chapman
Next on our list is London based blogger and Instagrammer, Jim Chapman. A firm favourite with the fashion crowd Jim's following reaches nearly 2 million on Instagram. Once voted GQ's best dressed man Jim's vast following enjoys his regular doses of lifestyle and fashion content ranging from the everyday to red carpet glamour. Jim describes himself as 'a subtle kind of guy' inspiring his followers how to style everyday essentials, statement accessories and less-is-more tailoring.
FIND OUT MORE
David Gandy
As Britain's biggest male model David Gandy is a household name known for his impeccable style and charm. He has mastered an off-duty wardrobe that is based heavily on a quintessential British style and exquisite tailoring. Aspinal joined forces with David Gandy to design the renowned Aerodrome Collection in April 2018. The collection combined Gandy's well-known sense of style and Aspinal's trademark quality and craftsmanship to create a comprehensive collection of 18 pieces taking inspiration from the legendary Spitfire.
FIND OUT MORE
Alistair Guy
Men's style, lifestyle and photography. Alistair Guy is a lifestyle influencer with a keen eye for true English style and a successful photography career. Experienced on both sides of the camera, he has contributed to a few notable British fashion magazines including Vogue and Harper's Bazaar. Aspinal loves the energy Alistair captures in his portrait photography using a mixture of digital and vintage camera equipment.
FIND OUT MORE
Mathias Le Fevre
Born in Denmark Mathias Le Fevre is one of the best dressed male influencers around. Moving to London at the age of 24 he has continued to grow his lifelong passion for true craftsmanship, offering style advice on tailored formal wear as well as casual attire, luxury and high street. Over the years his blog has transformed into an encyclopaedia of everything men's lifestyle, with content that every gentleman needs. With his distinct signature style, Mathias le Févre has become one of the street style favourites during the biannual fashion weeks. Here at Aspinal we love the way Mathias seamlessly combines new and old fashion to create real statement outfits - check out his 'The Best Menswear of Jermyn Street' post.
Find out more