There's a certain art to hosting the perfect summer garden party. You might not be able to guarantee the weather, but you can guarantee the perfect setting. Impress your guests with great decoration, atmosphere and of course the perfect drinks. This summer, we at Aspinal of London are collaborating with the multi award-winning Cawston Press to bring you a range of uniquely refreshing mocktails.
To get the flavours just right and bring your botanical garden to fruit for your guests, Cawston Press ensure that nothing artificial goes into their drinks. Which means our recipes are simply natural and bursting with flavour. The finest fresh pressed fruit and vegetables capture the sweet taste of the British summer for everyone to enjoy. Here are two easy to follow recipes for you and your guests to savour.
Cawston Press – Summer Garden party Mocktails
Magenta Fizz
This beautifully vibrant recipe is perfect for summer sunshine. Impress your friends and family with this easy, delicious drink at your next soiree.
Serves 1
Ingredients:
50ml Cawston Press Brilliant Beetroot Juice
50ml Cranberry juice
50ml of Orange juice
Soda water
Orange slices
Ice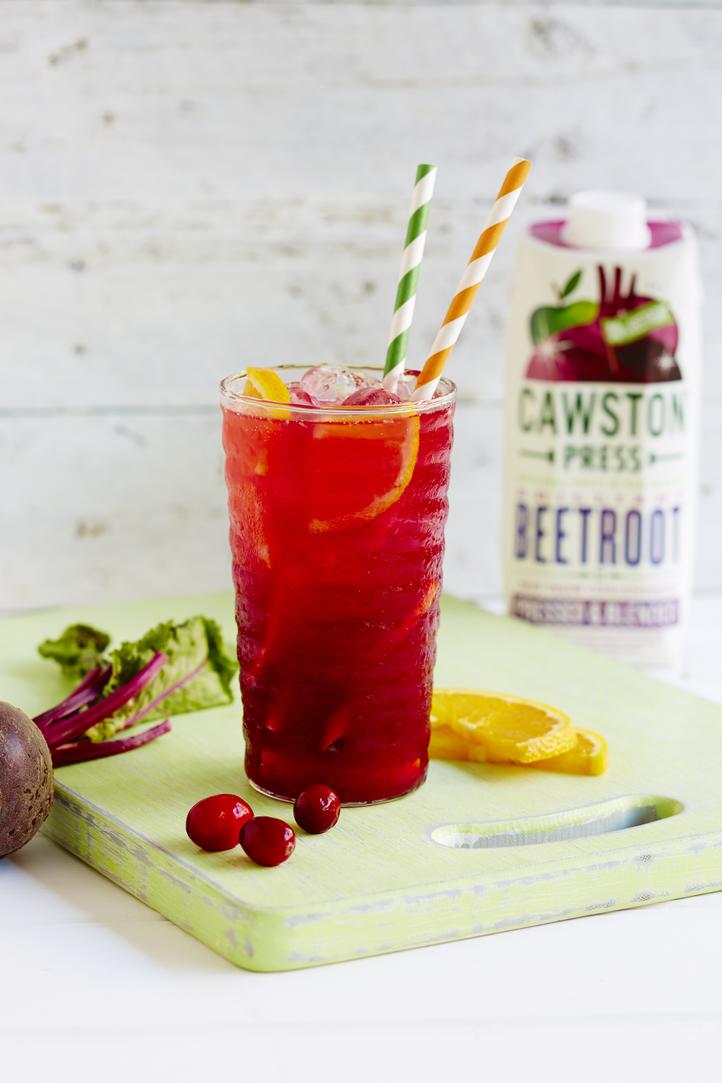 Method:
Pour 50ml each of Brilliant Beetroot, cranberry juice and orange juice into an ice filled glass and top with soda water.
Stir and serve with a straw and orange slices.
Cawston tip:
If you don't add the soda water this drink makes for a great breakfast juice.
Our measures are only a suggestion, feel free to add a dash more or less of any of the juices to make a blend that's perfect for the occasion!
Rhubarb Float
The perfect sweet treat to enjoy in the summer sunshine, the whole family can enjoy! Take a trip down memory lane with our Rhubarb float recipe
Serves 1
Ingredients:
1 x can of Cawston Press Sparkling Rhubarb
Good-quality Vanilla ice-cream
Method:
Take a tall, wide rimmed glass, pop in a scoop of good-quality vanilla ice cream
Top with chilled sparkling Rhubarb
Rhubarb and Strawberry Sunshine
Though our Sparkling Rhubarb is a winner in the taste stakes we still like to try it mixed and blended with other ingredients. Rhubarb and strawberry are the perfect partnership and this simple recipe makes them something very special.
Serves 2
Ingredients:
4 tsp of good quality Strawberry jam (high fruit content 50%+) or you can use strawberry puree
¼ of a teaspoon of quality vanilla extract
45ml of Lemon juice
1 x can Cawston Press Sparkling Rhubarb
Strawberries - to garnish
Ice
Method:
Mix the jam, vanilla extract and lemon juice in a glass
Top up with our sparkling rhubarb, lots of ice and a garnish with a slice of strawberry!
Cawston Tip:
If there are lots of strawberry pieces in your jam it will need a really good mix/whisk to break the bits up, alternatively, you can always put it through a sieve before mixing it all together.
This recipe allows you to make two drinks from one can of Sparkling Rhubarb. Add more or less Sparkling Rhubarb depending on how you like the balance of the two flavours.