Drinking tea is synonymous with British culture. In fact, as a nation, we drink 165 million cups of tea every day. It is a morning ritual, an afternoon pick me up and a national quirk. We have created quite a culture around our favourite beverage and tea comes with its own etiquette; and an Aspinal handbag makes the perfect partner for afternoon tea! Pop the kettle on as we delve deeper into our favourite blends.
English Breakfast Tea
English Breakfast Tea is a traditional blend and a stalwart of British life. A mix of Assam, Ceylon and Kenya, it has a rich and wholesome taste we all know and love. A dash of milk and a teaspoon of sugar sweeten the blend. Despite its name, this tea is the perfect pick me up for any time of day.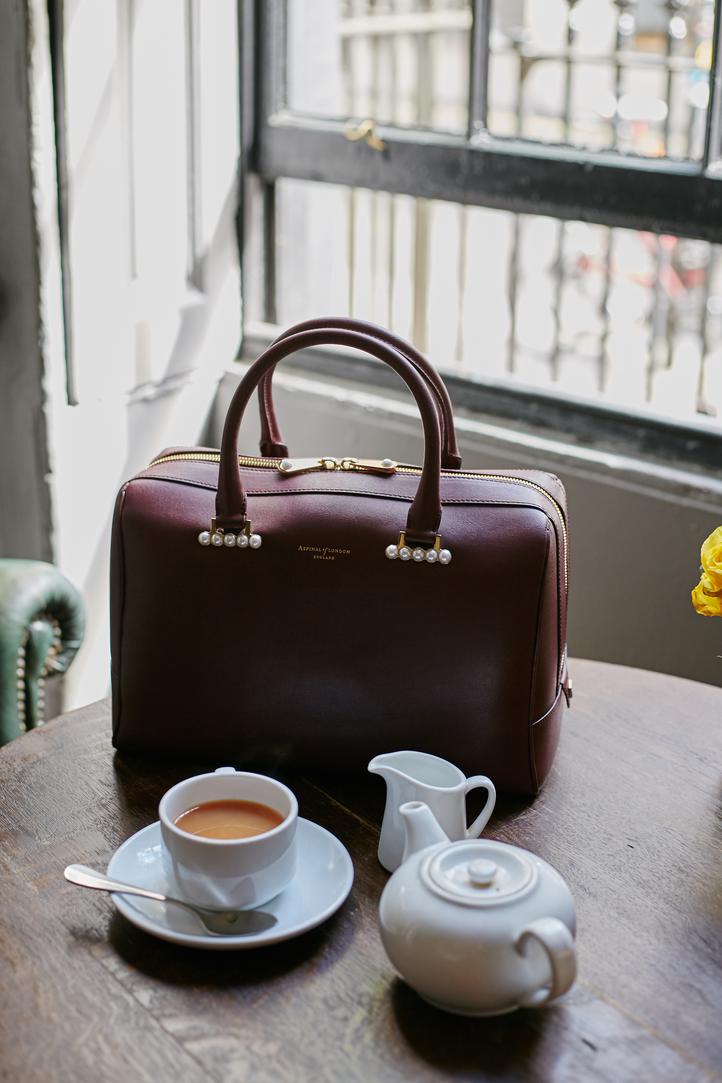 Earl Grey
Prime Minister Charles Grey is to thank for this famous tea, after asking merchant Richard Twining to recreate a tea he had previously sampled. The resulting blend was graced with the honourable gentleman's name and gets its distinctive taste from the essential oil of bergamot. A favourite for afternoon tea, its natural sweetness pairs well with scones and shortbread.
Darjeeling
The floral, fruity aroma of Darjeeling hails from India. Considered the 'Champagne of tea', its rich cultural heritage is compounded by the expertly cultivated, unique taste. Darjeeling is said to have a number of health benefits, as it is particularly rich in antioxidants. Enjoy this distinctively fragranced tea with savoury treats.
Green Tea
Green Tea is increasing in popularity thanks to a wide variety of delicious blends. Renowned for its high levels of antioxidants, it is a wonderful alternative to classic black teas such as Earl Grey and Darjeeling. You may be surprised just how many dishes Green Tea complements. Try it with seafood, savoury pastries and salad for a refreshing change.
Chai
Chai Tea has a heady, spicy flavour which originates in India. Ginger, cinnamon, cloves, pepper and cardamom are the root flavours, coming together in an aromatic infusion. The rich flavour is a wonderful winter warmer and a sweet, flavoursome treat. Indulge with a slice of cake on cosy evenings at home.
Assam Tea
Refreshing and bold, Assam Tea provides an energising boost for early mornings and busy afternoons. Assam is used as the foundation of English Breakfast Tea, offering drinkers a familiar taste with a stronger palette. On its own, Assam is an indulgent accompaniment for finger sandwiches. If sweeter snacks are on the cards, add milk and sugar.