In my latest instalment of Mariya's Diary, I introduce you to my friends and special guests that attended Aspinal of London's Spring/Summer '17 Presentation.
David Gandy
One of the best known male models in the world, as well as a writer, racing enthusiast, philanthropist and always the best-dressed man at the party.
Tom Daley
The medal-winning Olympic Diver is one of Britain's favourite athletes.
CRAIG MCGINLAY, PAUL SCULFOR AND FEDERICA AMATI
Here I was squeezing between two gorgeous British models/actors. Craig McGinlay has modelled for the likes of Brooks Brothers and Marks & Spencers, while Paul Sculfor is famous for his beautiful campaigns with Versace and Louis Vuitton. Paul's beautiful new wife, Federica Amati, wears our Mini Trunk.
Olivia Palermo
Here Olivia and I were discussing the collection at our presentation. Olivia's effortless style has been recognised when she was named as a global style ambassador.
Alistair Guy
Posing with my Lottie bag and the fashionable photographer, Alistair Guy.
A regular contributor to some of the world's most notable fashion magazines, including British Vogue, we loved having this man about town at the presentation.
Lucy Mecklenburgh
The Model and Fitness guru Lucy Mecklenbugh. We are both in love with our Aspinal Lottie bags.
Hugo Taylor
With the co-founder of Taylor Morris eyewear and former Made in Chelsea star.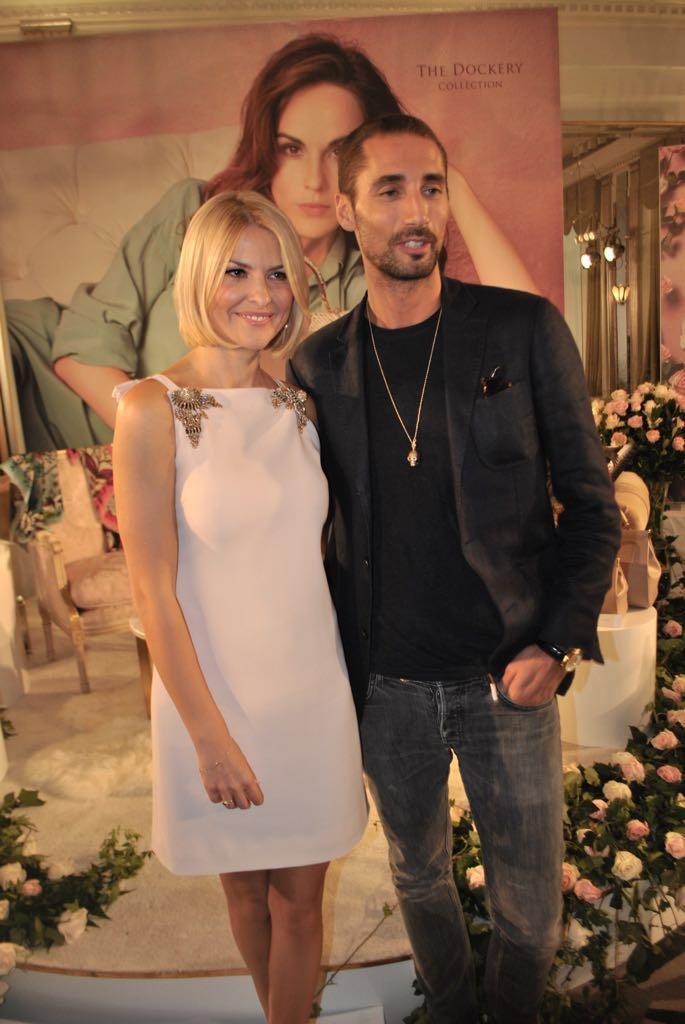 Rosie Fortescue
Jewellery designer, fashion influencer and Made in Chelsea star.
Jasmine Hemsley
A wellness and nutrition expert, Jasmine Hemsley has inspired a global audience to shift their perspectives on food as part of Hemsley + Hemsley. Here she is loving her Mini Trunk.
Brendan and Zoe Cole
Dancing with the stars! Brendan Cole and his beautiful wife, the model and blogger, Zoe. Zoe loves our large Dockery frame bag in beautiful peacock caviar leather, styled with a Robin scarf around the handle -So stylish!
Elizabeth Bishop
Here I am with Elizabeth Bishop. Art director, online creative and model, she has a cult following across her social media channels and is poised for world domination with her fellow Internet icon and BFF Charlie Barker.
Ashley James
The beautiful model/blogger/DJ paired her outfit with our new blush pink pearl duffle bag.
Jack and Safiya
My favourite guests at the press launch: my son Jack and daughter Safiya. Looks like we might be preparing to cycle home from Claridges all the way to West Sussex? Maybe not...
Watch the video