The lovely and hilarious Charlotte de Carle tells us all about her important Christmas responsibilities and what Aspinal goodies her family can expect under their tree on Christmas Day.
GIFT FOR YOUR DAD?
I'd get him a nice luxury bag, as painfully he still lives in the 80's using a bum bag. The Small Harrison Messanger Bag in Smooth Tan is perfect in size and stops him looking like he is off to a fancy dress party.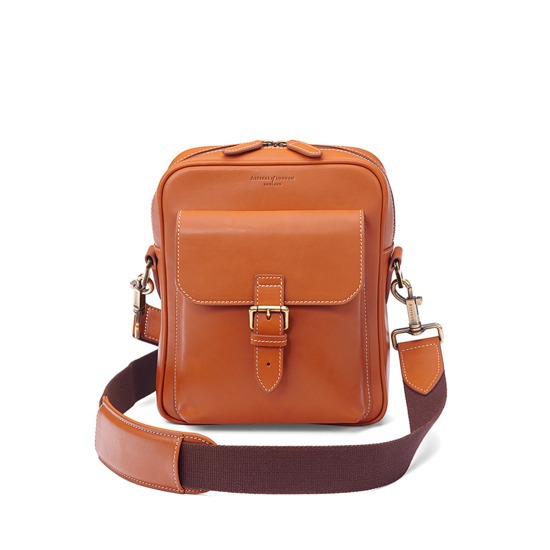 GIFT FOR YOUR SISTER?
For my middle sister I would select the Plain Travel Collection in Amber. This including a passport holder, name tags and travel wallet. Due to the fact she has a tendency to lose stuff! Also, I'd get it embossed just for that extra care. So I believe getting all in bright orange increases her chances to seeing if is she puts it down somewhere and obviously your more likely to remember it when it looks that good! Bless, she is like a child that needs their mittens attached to their coat!
What do you love about Christmas?
Christmas always takes me on a beautiful trip down memory lane back to childhood. I love to spend time with my family. They are my best friends and although my dad does tend to annoy me a lot, as we are quite similar, I still miss them. Also its a solid fun time of drinking, board games and cooking together. Oh and dear, the presents. I blooming love gifts, well gifts that aren't socks or body wash!
What Aspinal gift would you like to find under the tree for yourself?
To be honest I have a handbag, a suit case, a passport holder, card wallet and Aspinal x Etre Cecile rucksack. I may as well change my middle name to Aspinal! So as you could guess, my favourite Christmas present apart from love and world peace would more Aspinal.
Under the tree for me this year, I'd very much enjoy the Harrison Weekender Travel Bag in Smooth Tan. I have a great deal of travelling to do next year so why not travel in stunning style. Plus I always feel if I choose a bag, there could always be something else in it too. Maybe even a nice ruby debutant ring. One can dream hey!
WHAT WILL YOU BE DOING THIS CHRISTMAS?
I shall be heading up to Leicester to see my folks this year, like every year. So I shall be getting my parents mildly intoxicated and watching over the parsnips to make sure they aren't burning. It's an important job!
WHAT'S YOUR ULTIMATE PARTY CLUTCH?
Well that's easy, definitely the Padlock Clutch in Smooth Black. Not only because it's beautiful, original and sexy.
FOR MORE INFORMATION:
Blog: Huffington Post
Instagram: @charlottedecarle
Twitter: @charldecarle