Having the family over at Christmas usually means everyone from grandparents to grandchildren coming together for a few days. While the youngsters will probably be preoccupied with their presents (and the adults with theirs, too), tempt them away with some favourite traditional games. There are few family activities as accessible and enjoyable as a game of Scrabble, Monopoly or backgammon; peruse selection of our favourites for the festive season.
Monopoly
A true classic, our version of this timeless board game delivers an elevated experience. Each Monopoly set, whether it's in our stylish red and black or regal blue and cream, features a hand-bound Jewel leather tray, lined in soft, elegant felt. The pewter player counters, houses and hotels come with dice, sleek paper money and, of course, the Chance and Community Chest cards. This game makes an exquisite centrepiece and adds an extra touch of festive atmosphere to any celebrations.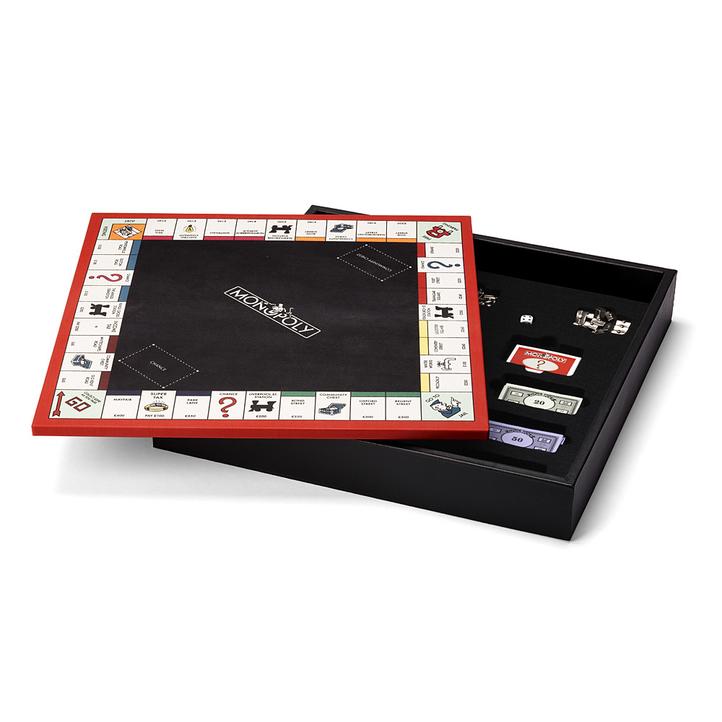 Scrabble
An excellent way to test your vocabulary while revelling in the entertaining words the children might come up with, Scrabble, like all our luxury games, brings an additional element of class to proceedings. The handmade Jewel Italian calf leather trays are lined with felt to protect and store the bridle hide-backed letters, drawstring bag and four leather-backed letter racks, which ensure you keep your big point scorers organised.
Chess
One for the strategists in the family, chess has been enjoyed by players across the world for generations and there's no better game for developing minds, young and old alike. Our Luxury Chess Sets are based on the renowned Staunton design chessman, originally designed in 1849. These magnificent sets add a sense of occasion and sophistication to any game. Available in warm camel tones or striking red, our chessmen are triple-weighted and hand-carved. Each piece is a work of delicate detailing, and the jewel Italian calf leather tray protects them between games, thanks to the deluxe felt lining.
Poker
The perfect evening activity to enjoy after a delicious dinner, our Luxury Poker Sets have everything you need to make each player feel like they're enjoying the decadence of a Monte Carlo casino. Available as either 300 or 100-chip sets, in striking berry lizard or elegant deep-shine amazon brown croc and cream suede, each wooden box is bound by hand in the highest-quality Italian calf leather. Don't forget to take advantage of our personalisation service to make this striking set truly unique.
Backgammon
Our Backgammon Sets are unlike any other. Hand-crafted from only the finest oak, each one features hand-carved designs - either intricate stars or a detailed Union Jack flag. The polished playing surface features striking contrasting tones and every 22-inch set has hand-spun oak dice cups, a doubling cube, dice and 30 superior oak checkers.
All of these games make excellent presents too, of course. Whether you're celebrating at home or away this year, sharing one or two of these exceptionally sophisticated games is sure to bring a smile to players and observers alike.